The North London Derby. A game that I look forward to and am nervous about in equal measure. The bragging rights. The one-upmanship. The points. Lots at stake. The game itself however, flattered to deceive. It was an absorbing encounter for sure but by no means a classic. It didn't matter to me so much as to how the points arrived, just that they did, as is always the case on derby day.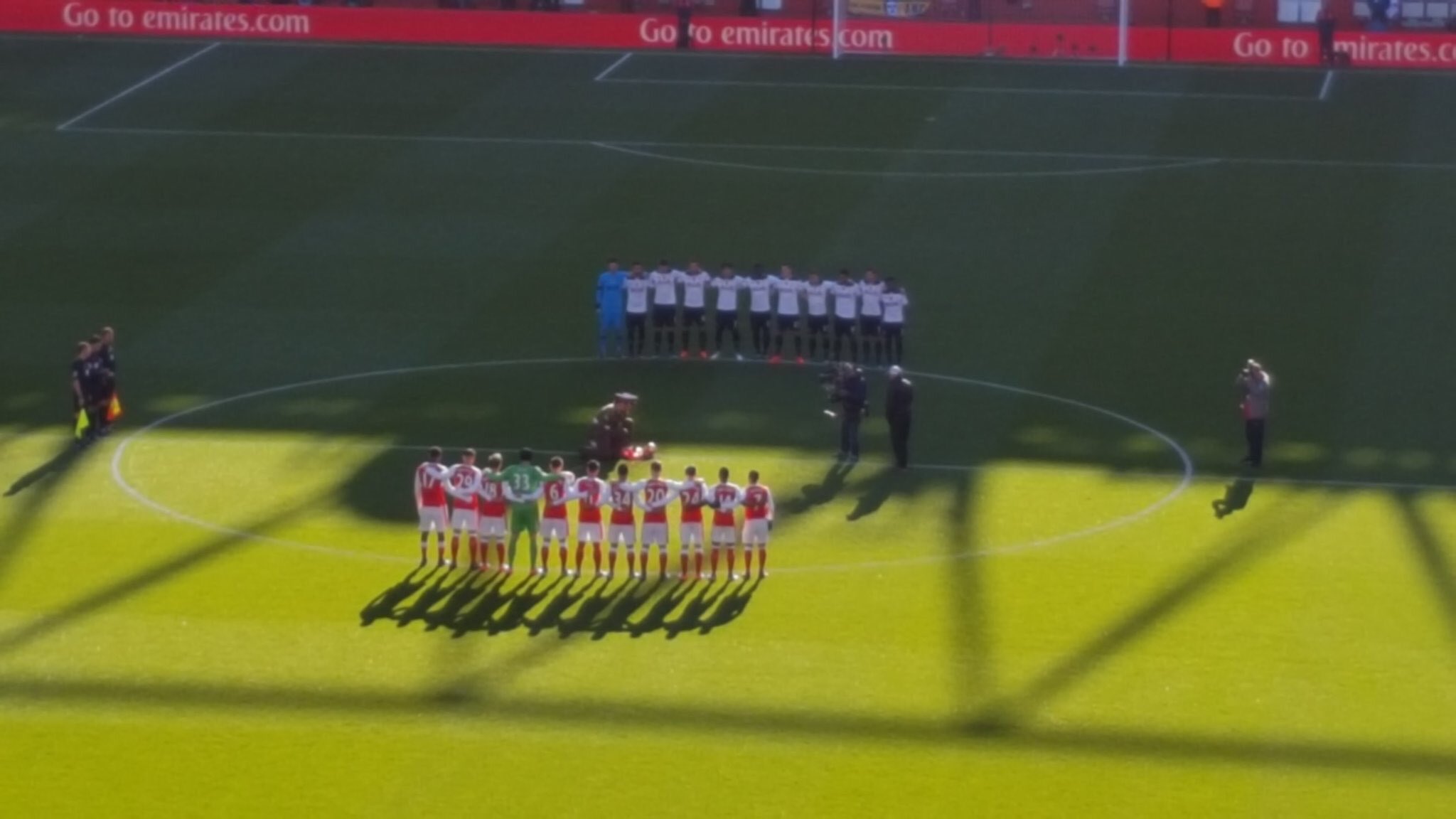 The way we set up was to perform in a similar way as the home performance vs Chelsea, which was most definitely the correct approach. There was much said about the way that Sp*rs set up with 3 centre backs alongside two wing backs, so very much playing with 5 across the back to stifle our pace. Smart tactics and that's not at all what I had a problem with, I mean Chelsea set up in this way vs Everton and look at their performance on the weekend – one of the best of the season alongside our win vs them (ironically the watershed moment that prompted Chelsea to change to this more favoured system to Conte). The problem that I have with the way the game panned out is once again Sp*rs constant need to foul their way into the game. Chelsea amassed just 5 fouls in their game vs the 17 that Sp*rs managed against us. I have a good friend who's a Sp*rs fan (I know, I know) who was livid at the way Leicester defended last season and got away with it. It's pretty clear that Sp*rs have a distinct playing style now, which involves the high press invoking counter attack football alongside persistent high half fouling. As I've alluded to previously, they finished 4th on the foul charts last season and are sitting pretty in 2nd place this time around. I have absolutely no idea how Wanyama remained on the pitch throughout the game. He made at least five or six fouls and they all went unpunished. Kevin Wimmer completely took out Coquelin, with no intention to play the ball early on and received a yellow. Cough Granit Xhaka cough. The same level of consistency doesn't seem to be being applied across the whole Premier League contingent and our mistake has been to be far too nice over recent years. It's now costing us. A foul we make is so out of character that it surprises refs into believing that a yellow card or worse is a must, but when the likes of Sp*rs carry this sort of behaviour, or Stoke and Leicester for that matter, they get away with it as it has now become expected. Every time we looked to be building momentum they intervened with a foul. We should also have had a penalty when Vertonghen did his best impression of Robert Huth by tugging and almost ripping off Xhaka's shirt: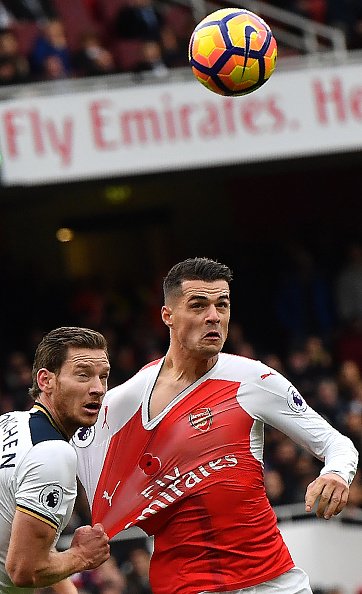 As you can see it's not even subtle. But it's a pattern of how they've set up and how they try to quite frankly cheat their way to points. It's the way Pochettino behaved as a player and the style has transferred to the Sp*rs players seamlessly. They can claim to play pretty football, but the fact of the matter is that it's quite simply a slightly better version of what Leicester did. You can forgive Leicester for their lack of resources, but for a club who claims to play good football and do things the right way alongside having outspent all bar Man Utd, Man City, Chelsea & Liverpool, to produce this brand of football is embarrassing. They'll profess that it doesn't matter so long as they win trophies now that they have discovered how to not lose a game. Jose Mourinho beckons.
In terms of the game itself, neither team 'bossed' it per se. Sp*rs started the better without creating too much and we grew into the game. They had one half chance tat Kane almost converted (with Son in an offside position – something to note for later on), glancing just wide of the post with Cech beaten. We then took the lead via a set-piece from Mesut Ozil. He delivered a great ball into the box that Wimmer simply had to attempt to clear with three players waiting behind him to put the ball away. Now here's the big talking point. Two of the three players were in offside positions (as Son was earlier), however didn't attempt to play the ball in anyway nor did they impede Lloris or Wimmer. Koscielny was onside and waiting to put the ball in so Wimmer jumped and headed into his own net. The goal was analysed by Howard Webb on BT sport following the game explaining the rules, to which all of Rio Ferdinand, Ian Wright and Harry Redknapp all disagreed with. We might disagree with rules, but with Webb having clearly explained the rules and looking as though he wasn't flat out allowed to disagree with his more well paid pundits played diplomat and said the rule needs looking at. The fact is that in accordance with the rules the goal was good. 1-0 to The Arsenal. The second half I thought would be a good opportunity to stamp our authority on the game and put up a resolute first 15 minutes to the half as we all knew Sp*rs would start the half with more intent. We let Dembele waltz through all too easily and Koscielny then put in a foot in the wrong place. Wenger says it was soft, but there's no doubt that it was a penalty. Kane put it away and it was followed with our typical nervy 10 minutes following the concession of a goal. We had some half chances as did they, the best of which was when Rose put a dangerous ball across the box for what looked like a tap in for Kane until Nacho Monreal made a great last ditch tackle. On the balance of play in the overall game I think a draw was probably a fair result. I'm not sure either side really did enough to win the game. Actually I am sure, as if they had then it would have been a different result. Playing away to Sunderland (6 hour travel) and away in Bulgaria (3.5 hour flight with coach travel either side) seemed to take its toll on us. Sp*rs on the contrary played at home vs Leicester and then at home vs Leverkusen so had a less hectic schedule in the lead up to the game. In any case it looked as though both sides were sapped of energy in the final stages of the game.
The international break is upon us once again and it comes at a good time for us because it's November. It makes the historically painful month for us a little less fixture filled, however we have the small matter of an away trip to Old Trafford when we do come back from it. As it turns out Zlatan will miss out, however they didn't need Zlatan to beat us last season and it will most definitely be a tough tough game. For now though we are just the 1 point off top spot where Chelsea seem to have crept up to with their good performances over the last few weeks. I think it's still a little too early to look at the league table just yet but we've made a good start having now played Liverpool, Leicester, Chelsea and Sp*rs.
Not quite the result we wanted but not the end of the world either. Onto the next one…
Follow me on Twitter @MiteshLakhani1.