The battle lines had been drawn long before this International break, however the talk has intensified with Alexis Sanchez suffering a hamstring injury in training with Chile last week. Whose responsibility is it to manage his fitness? Who's his priority? What's our role in this? How do the Chilean FA work with us on this?
Lot's of questions that we would love to know the real answers to, but we can surmise the answers to some of them. In normal circumstances with a normal footballer the responsibility and decisions largely sit with the club because the club pay their wages, the club manage their fitness and the club is the over arching all powerful force that has to be succumbed to by the National team. In Alexis Sanchez's case, it's an entirely different story. He is one of a rare breed of footballers that seems to exist in today's age in that he just wants to play in every single game going. It doesn't matter who for, he just wants to play the sport that he truly loves and is lucky enough to be getting paid to play. With Alexis, as well as deeply loving and caring for his country he also sees it as a moral duty to play for Chile. It's said that he's the ultimate street footballer, yet he's not the only one. The whole of the Chilean national side is programmed to think this way. It's something that Arsene Wenger alluded to when signing Alexis in saying that players from South American backgrounds had to fight harder to compete:
"Maybe in our history street football has gone. In street football when you are 10 years old, you play with 15-year-olds so you have to be shrewd, you have to show that you are good, you have to fight, win impossible balls".
In a polite way he is trying to say that it's a much harder fight to become noticed, to become great from an impoverished background in comparison to the monster sized football academies being born all over Europe. The footballing culture is different and it's clear when you think of national sides. Think of Germany, France & Spain for example, all well oiled machines designed to play football the right way and not a mass of the old school "fighter mentality" around very much. Compare that to the mavericks that are Chile, Argentina & Brazil and you have a real determination in the way they play alongside the sublime style. Brazil less so historically, however it's on the increase within their recent squads. In any case it's a culture that embodies fighting spirit and a never say die attitude, which is why we are seeing Alexis desperate to play and help his country win at all costs.
In terms of his injury management it's very much down to himself. He clearly doesn't take on board how his club feels, or his country for that matter. He just wants to play. As much as Wenger tries to publicly state that the player needs extra care in order to control him, it's just not enough. You can see that Alexis is like a child that a frustrated parent can't quite control and has to put that face on for the public "he's never like this at home" (NB This may not be a real quote). In short it is clear cut in as much as it isn't clear cut for Alexis. He's going to try and pitch to play every game and if he doesn't he'll be a rage monster. If he is allowed to play every game and is then injured for a long period he and the manager will be lambasted for mismanagement. From my point of view it looks as though the player himself is out all guns blazing whether he is 100% fit or not and it's a case of Arsene Wenger being very calculated in the way he uses him. Wenger has to guide the manner in which he is played and even taking him off for a few minutes here and there to try and save his legs just that little bit, creates an annoyance for Alexis. We all wondered in the game vs Basel at home as to why he wasn't taken off when the game was all but won, it was a question of keeping his player happy. Letting him play in a not so intense game situation for 20 minutes is probably less brutal on a finely tuned machine than playing 5 minutes more in an intense close to a game. He was taken off in the 3-2 victory over Swansea with 8 minutes plus added time to play vs having played on when we were 4-1 up against Sunderland. Wenger is being smarter with his energy distribution, or is trying to be as Alexis looks to be firmly in charge of the situation. Playing with a minor problem here and there isn't in Alexis' game. He's always 100% and if he plays with a little niggle (not very often) you can see it. The weaker parts of his game are exposed (ball retention), which makes it all the more important for his fitness to be appropriately managed.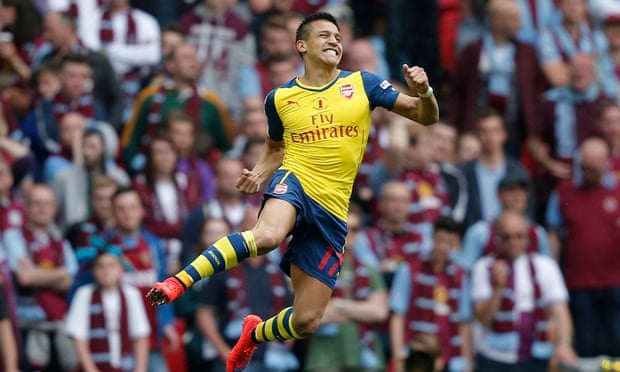 I think that the English have built up more of a stigma for international football simply because of the England national team. The players look more and more like they don't give a monkeys and this plays back to the Arsene Wenger quote from earlier. European football is a little more spoilt, a little less hard working and a little more brittle when it comes to the pressure. It's because of this that so many English fans have become disenchanted with international football and it's because of this that their affiliation with their clubs has never been as high. When it comes down to the real question of "who's to blame for his fitness struggles/issues?", it's really the player himself but not for a bad reason. He just wants to play and he doesn't know any other way of playing other than giving 100% for every second of every game. Unfortunately it's not a conundrum that anyone will be able to resolve or fix and I think that Arsene Wenger knew that when he bought the man.
It's Club over Country for the fans, for the players it seems to be Country over Club, but for Alexis Sanchez it's football over everything else.