Will he? Won't he? The question on all Arsenal fans' lips at the moment. Well maybe not quite 'at the moment' purely because we're furiously retweeting his Panenka vs Burnley. What a man.
The future of both Alexis Sanchez as a player alongside Arsenal Football Club are intertwined and aren't as separate as we would normally imagine them to be. Usually you would say that no one player is bigger than the club and if he needs to be moved on then let's move him on. However this is a quite unique situation for a multitude of reasons; Will Wenger stay? Will Ozil stay? Will we win a major trophy? Will we add more World Class players to the squad? These are the questions that will be whirring around Alexis' mind as he comes to a decision as to whether he will extend his contract or not and I completely understand the reasoning behind the slight delay with it all. It's not just one thing and it feels like there are a set of dominoes that need to fall in order to get this one over the line.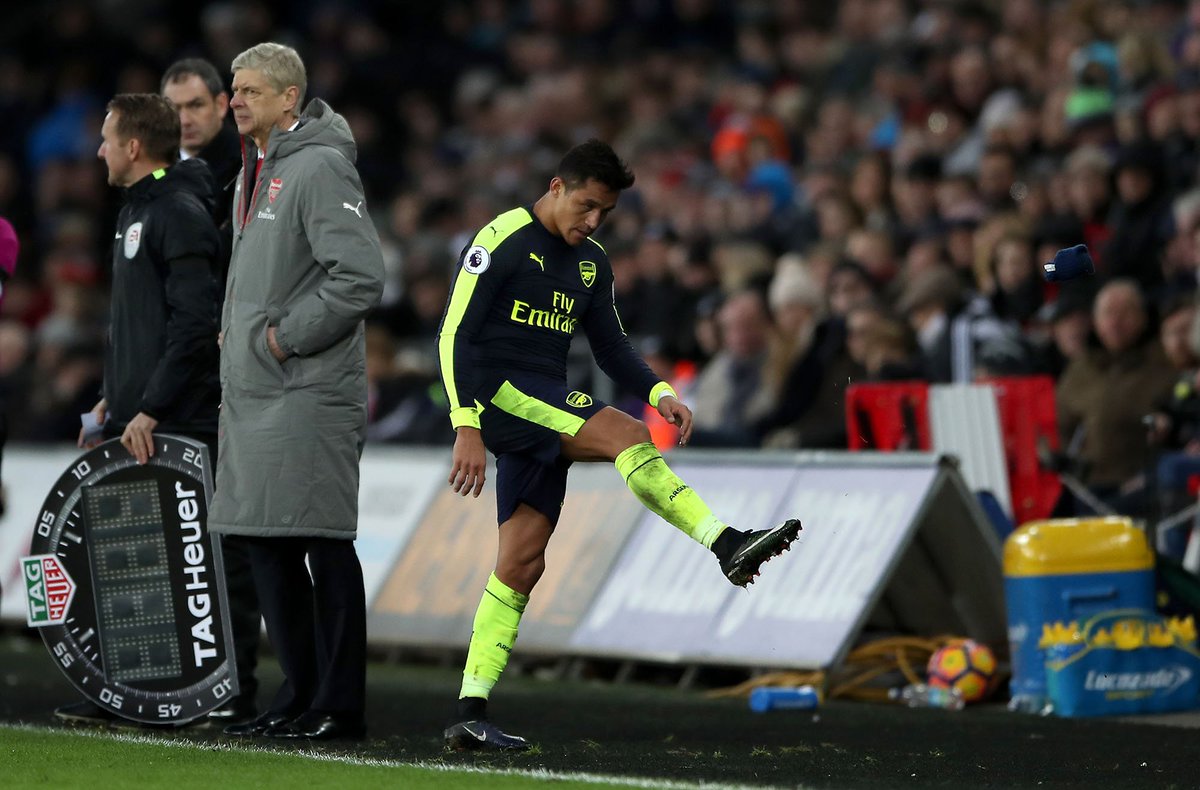 There are plenty of people in the media  as well as some of the fan base are suggesting that his 'attitude' on the pitch is indicative of a man who has his mind elsewhere. Being upset at not winning football matches is now something that means you want to leave a football club nowadays. The media are becoming more and more inclined to the clickbait life and in turn are producing nothing more than a headline rather than real content, real analysis and real meaning. Connecting things in the loosest way possible is not helpful to the more innocent amongst the fan base and certainly fuels the fire for the growing number of 'super fan personalities' who feel vindicated because people like the Daily Mail back them. I mean I saw a Tweet sent out by Ian Ladyman post the Burnley game stating that the Mustafi penalty call was outside the box. It wasn't even a close call – and for a man who professed to watch the game and then write a match report on said game it smacks of nothing but laziness to the extreme with regards to the analysis. The balance between getting content out and producing quality content is far too heavily slanted in the direction of efficiency. I digress…
The other side of the coin you have Arsenal fans who state the quite pathetic emotion of "Don't stay Alexis, you can do better than this mate. I understand. Sniff". Do me a favour. Since when do we as fans need to take the high road and look out for the players over the club? It's quite frankly an embarrassing stance to take by so many who profess to love the club yet understand the very players whom they want there, to leave. It makes absolutely no sense whatsoever. On top of this we had a tremendous amount of angst from the agenda merchants around the whole Wenger/Ozil contract situation potentially being tied together. It's as if there can be no acceptance to the fact that Arsene Wenger is a big draw to players, even though some of the fan base think he is past it. Yes you may feel he's past it but you cannot control how Mesut Ozil or Alexis Sanchez feel about him. The same fans who want us to grow and attract top talent don't seem to realise that by losing the likes of Alexis and Ozil (and even Wenger to a degree) means we have to: 1) Replace them. 2) Let them settle in. 3) Wait even longer for a trophy.
Now for Alexis' 'behaviour' over the last few weeks. He has been far from happy when we've lost/drawn games and when he's been substituted. Now consider the fact that he is a human being first, footballer second and think about this. If you're playing a 5 aside or an 11 a side game of football on a Saturday or at a work lunchtime kick about or even down the park with your mates you a) probably don't want to go in goal and b) would hate to be the sub on either side. We all like to be involved at all times. Secondly whether we win or lose is in no way comparable to a Premier League footballer however we all know that it feels terrible. The difference is that we have the distractions of work/life to get back to whereas a footballer has the feeling of defeat and only that to think about before the next game where the demons can be exercised. Of course they are going to feel it more. Especially if they are a super passionate footballer in the first instance. Alexis Sanchez, we all know, wears his heart on his sleeve and it's something that Wenger will have known when he bought him. Wenger himself seems fairly calm about the situation, which gives me hope and confidence that the man will stay. I do really feel that the only way to assure that he does so is to win one of the Premier League or the Champions League. The FA Cup may well help, however it's one of the big ones that he really wants, as all athletes do – they want to experience the unknown when it comes to winning things.
As much as I love the Atom and Humber banner, it might take a Premier League title to keep everyone happy. Time to deliver Arsenal.
 Follow me on Twitter @MiteshLakhani1.