Rob Holding has seen a sharp rise into the limelight at Arsenal football club. He's clearly a highly talented individual with great confidence on the ball, won't be bullied by the bigger target men in the league and is showing the exact promise that Wenger looks for when creating a team who builds from the back. He has the ability. He has the composure. He has it all. But if one thing is clear, he needs some guidance so as not to harm his development. It needs to arrive in a very on the pitch manner as off the pitch he looks like a model pro, willing to listen and learn from the icon that is Wenger. How will he be managed then? Let's take a look.
He's been thrust into the first team purely out of need rather than something he had earned, however in doing so he has now earned a seat at the table. Well to be a part of the conversation at the very least. The famous quote that will always ring through with him is Wenger saying "I'm sorry he didn't cost £50 million!". Whether by happy accident or by exemplary scouting we have him in our ranks and simply because he is English, he'll need that extra bit of management to ensure he stays grounded and doesn't let the media dictate how the trajectory of his career should look. Wenger will take care of the media part as he always does, however it's on the pitch where he needs a calming voice to let him know when to play and when to play it safe. That is where the likes of Mertesacker, Koscielny and even Mustafi will come in. Mustafi himself will be learning a lot from the aforementioned BFG and Koscielny, but being a little more senior to Holding as well as having a rather larger price tag it means that he'll have the older sibling 'job' in bringing Holding through games. Holding looked a little lost in the Leicester game, however this was simply because the back 5 comprised of a RB, CB, LB, LB, RW. How could he have been expected to perform even half well, when others were unsure of their positioning themselves? The issue here was that 3 of the back 5 were out of position and would have to manage themselves, which is a job in itself (as we saw!) and therefore had no time to help Holding. They had no time to tell him all the right things to do, all because they were trying to make sure they did the right things themselves (they didn't).
The key here for Wenger is to give him as much of a chance as possible by ensuring that he is taken out of the firing line from time to time. The first choice back 5 should be Bellerin, Mustafi, Mertesacker, Koscielny, Kolasinac/Monreal. Holding needs to be taken in and out of that side in rotation with Mustafi and/or Mertesacker so that the responsibility of his development doesn't rest solely on his shoulders. Last season we saw Chambers and Holding chucked in at the deep end vs Liverpool on day one. We were lucky not to lose that game 8-1 and that is simply not the way you build a young players confidence. The 4-3 scoreline last season flattered us, this time around it flattered Leicester as we really should have run away comfortable winners. This is why I hold hope for Holdings development this season. We have our big guns to come back into the side and they will undoubtedly aid Holding's development. He's a very confident player which has probably helped him avoid the grumbles that may be on the cusp of rumbling through the crowd. There is currently a culture that exists within football as a whole whereby players/managers/doctors/mascots and the like can be quickly maligned to protect the 'honour' of the club. There is far too much judgement far too early in player careers and it's to their detriment, especially now that every single one of them is using social media. We as fans also have a little responsibility in this and I hope that we stick by him when he inevitably goes through a bad patch, as all young footballers do. We don't have to look to far back at how the fans reaction post Palace last season seemed to affect Hector Bellerin. I'm not saying venting frustration isn't right, but when there are young players out there it needs to be more measured. It's only for the better of the team in the long run.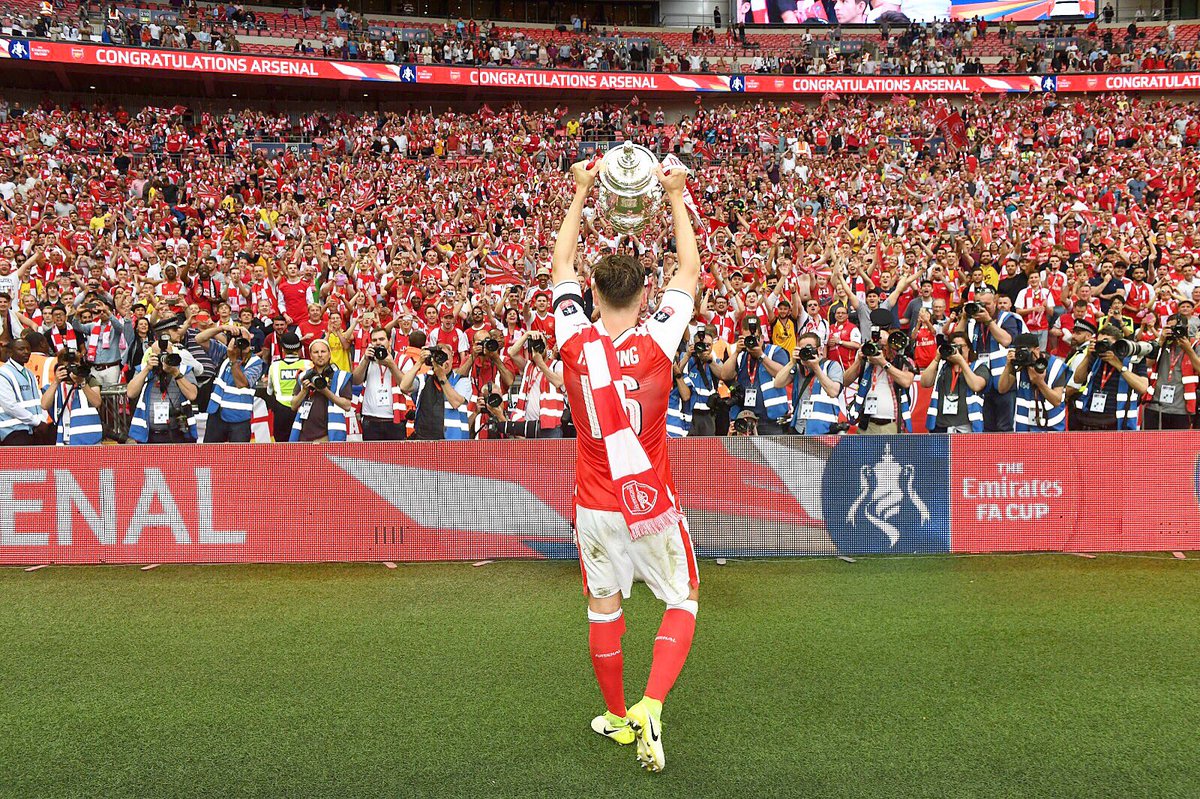 Rob Holding has had a the heavy burden of representing Arsenal football club on the biggest of occasions but whilst it is a burden it is also a great privilege. He's carried this on his shoulders without so much as flinching, so his second season promises to be something special if managed well. If winning trophies at Wembley isn't enough encouragement to keep working hard then what will be? The man management of Rob Holding could well turn into a tenure stay. And who knows, one day, he may well be better than Cannavaro…
Follow me on Twitter @MiteshLakhani1.